Get the Tools You Need!
Updated and Expanded 2nd Edition Available on July 1, 2009
2nd Edition Features an index, and new chapters on social networking, the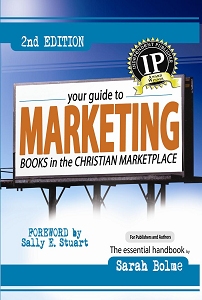 Urban market, and getting endorsements!
"The best Christian marketing book I have read! I love this book. I especially like the fact that you provide information on Urban marketing. As an African-American author, I find the 'Targeting Special Markets' section a priceless gem."
— Mary Ann Battle
This is the essential handbook for marketing books in the Christian marketplace. Packed with valuable information on promoting books in this niche market, this guide is the perfect resource for publishers, self-publishers, and authors.
This book has what other marketing books lack: specific resources with contact information for marketing in the Christian marketplace!
Foreword by Sally E. Stuart
BUY DIRECT!
Just $23.99
+Free Ship

Or click here to download an order form if you prefer to pay by check or money order.
Buy the PDF Version
GET IT NOW!
Immediate download for $14.99

Get immediate access to the information you need!
Informational Links
Click here to read the foreword, introduction, and first chapter.
Click here to see what people are saying.
Click here to see the latest updates.
Closeout Bargain – Only a Few Left!
Are you on a tight budget? Get the first edition. While some of the resources are outdated, the strategies are still sound.

$7.00 +
Free Ship

Or click here to download an order form if you prefer to pay by check or money order.
Sarah Bolme is the co-founder and Director of Christian Small Publishers Association (CSPA). She is also co-founder of Crest Publications and a noted author and speaker.
Take this quick quiz to test your book marketing knowledge and expertise.
Read Sarah's blog •
Follow Sarah on Twitter •
Keep Up to Speaking Services
Book Sarah to speak at your conference, seminar, or workshop. Click here to view her speaking specialties.
Are you overwhelmed with trying to market your book? You need a book marketing coach. Let Sarah help you: click here to learn how.
Click here to listen to Sarah's interview on The Christian Authors Show regarding marketing Christian books.
Click below for a personal welcome from the author.
Marketing Links